FREETOWN, Sierra Leone, 07 February 2022: Sierra Leone has one of the highest rates of adolescent pregnancy in the world. According to the country's 2019 Demographic and Health Survey, 21 per cent of girls between the ages of 15 and 19 were found to have begun child bearing. Similarly, the same survey found that 8.6 per cent of women aged 20–24 years had married before the age of 15 years, and 29.6 per cent of women in the same age bracket had married before the age of 18 years. In recognition of this situation, Sierra Leone is one of the 12 countries supported by the Global Programme to End Child Marriage through interventions overseen by UNFPA and UNICEF.
For its part of the Programme, UNFPA works with implementing partners like Women in Crisis Movement and Restless Development in Kambia, Pujehun and Koinadugu districts to increase access to quality health information and services, education and life skills for adolescent girls. Part of the support led to the establishment of safe spaces for adolescent girls in the three districts, as well as the training of 80 mentors and 10 volunteers in asset-building and life skills.
Restless Development has been utilizing the services of some of these trained volunteers to support the girls in their safe spaces.
Reflecting on her work with Restless Development, one of the volunteers, 23-year-old Mabinty Ramadan Kamara, a third-year law student at the University of Makeni had this to say: "Serving as a volunteer in the campaign to end child marriage is a dream come true. I started developing the interest right from my early days at Fourah Bay College, University of Sierra Leone whilst pursuing my first degree. Volunteerism has helped in shaping me and it has been a great experience. Despite being a graduate, I was never a bold person. Now, I can facilitate meetings, I can write reports and have even developed some skills for research".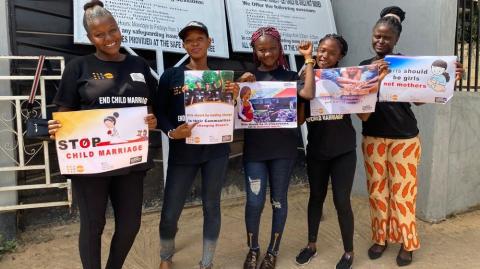 In Koinadugu, with UNFPA support, Restless Development, assists adolescent girls in 27 communities in five chiefdoms (Diang, Kasunko, Sengbe, Wara Wara Bafodia and Wara Wara Yagala) with safe space facilities, mentorship and training in life skills and referrals to sexual health service providers for issues related to sexual and reproductive health and rights. Since the establishment in 2021 of safe spaces, 2,007 girls have successfully been provided with sexual and reproductive health and rights information by the volunteers and mentors trained by Restless Development.
In regard to their work at the safe spaces, Mabinty said, "As volunteers, we carry out series of girls led sessions where we give the girls opportunities to talk to people in the community in such places as marketplaces and in the schools, as a way of making them bold to express themselves."
 In countries like Sierra Leone, child marriage and teenage pregnancy are largely fuelled by a diverse set of drivers that make girls vulnerable, including, poverty, social and gender norms, sexual violence and exploitation. This is compounded by weak institutions and services and a lack of information, knowledge and skills impartment.
 "Koinadugu is known for forest logging and those engaged in the trade would usually take advantage of the vulnerable young girls and keep them as wives. I have seen young adolescent pregnant girls, some forced into child marriage by their parents and in most cases, due to poverty. Given my passion to work with young people, I saw this as a challenge as well as a motivating factor to volunteer in the campaign to end it. At times it was hard, talking to them and building their confidence that there is still a future for them. Nevertheless, this was something I was prepared to undertake despite the challenges," Mabinty explained.
 David M Bayo, Restless Development Regional Operations Manager, Makeni, said, "The work of volunteers like Mabinty has contributed immensely in positively changing the lives of adolescent girls in Koinadugu. They have helped in uniting girls with their families and in encouraging some of the girls to return to school. With the help of dialogue sessions, parents and adolescent girls have found a common ground to discuss issues affecting adolescent girls and community stakeholders now take actions by implementing by-laws to prevent early marriage."
"By talking to adolescent girls who became pregnant at some point and felt left out because they could no longer attend school, I was able to convince [a] few to return to school," Mabinty said joyfully.
 Restless Development reported that, thanks to the work of Mabinty and other volunteers, two girls in the community where Mabinty served as a volunteer – Janu Kamara, in Kafogo community and Marie Sesay, in Sangbanba community – were able to return to school. Additionally, in Koinadugu II hub, two students, Hawa Samura in Nyafrando community and Isata Koroma in Yataya community, are now back in school.
 "I am proud to have worked with the communities in the district and successfully convinced those young girls to return to school and community leaders like section chiefs to embrace the call for an end to child marriage. This empowering experience has convinced me to decide to continue with advocacy work for the rights of adolescent girls even after completing my law studies", concluded Mabinty.
***
For more information, contact:
John Baimba Sesay
Web and Media Analyst
UNFPA Sierra Leone
Email: jsesay@unfpa.org 
Tel: +232 30953193