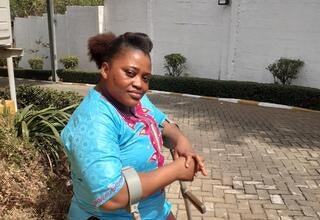 Last year, UNFPA supported the National Secretariat for the Reduction of Teenage Pregnancy to establish a youth advisory panel consisting of 16 youth champions passionate about reducing teenage pregnancy and ending child marriage. Funded by Irish Aid, the youth advisory panel is tasked to advise government on the gaps preventing adolescents from accessing sexual and reproductive health services and information.
Around the world, girls are challenging gender stereotypes and breaking free from the traditional roles that society has dictated for generations. More and more are saying no to child marriage and pushing for an end to the practice. They are advocating for their right to stay in school and to live free from violence and harm. They are calling for urgent climate action and working to build more just, equitable and sus...
"I have always been interested in volunteering and first heard about the National Youth Service Corps Volunteers in Nigeria and Kenya. I discovered in 2018, that a National Youth Service was set up in Sierra Leone, so I applied," explained 26-year-old Ashmao originally from Koinadugu District. After studying at Njala University in Freetown, the capital of Sierra Leone, and awarded a degree in Business and Informati...