BO, Sierra Leone, 24 November 2020  -  The Bo Government Hospital is a busy health facility which provides vital services to pregnant women on a daily basis. Serving over a million people, the facility is the only referral hospital in the southern province that caters for Pujehun, Bonthe and Moyamba districts.
Sierra Leone ranks among the world's highest maternal mortality ratio. The 2015 Sierra Leone DHS indicates that maternal deaths account for 36 per cent of all deaths of women aged 15-49 years. 
One major challenge facing the health sector in the country is the inadequate number of qualified and skilled health personnel, particularly skilled birth attendants who are critical to the prevention of maternal deaths. This is in addition to the inadequate infrastructure of health centres and hospitals and the critical equipment needed to provide quality maternal health services.
The United Nations Population Fund (UNFPA) in Sierra Leone, is the UN's sexual and reproductive health and rights agency that works towards reducing maternal and newborn deaths.  Interventions across the country include supporting the Government in transforming the health care delivery system such as establishing specialised maternal health facilities.
With financial support from UK Aid through the Foreign, Commonwealth and Development Office's (FCDO) Saving Lives in Sierra Leone Programme, UNFPA works with Doctors with Africa CUAMM to support the Bo Government Hospital to improve quality obstetric services to reduce maternal and newborn mortality. Such measures include the extension and refurbishment of the labour ward and the establishment of a dedicated maternal High Dependency Unit (HDU) to address obstetric emergencies.
The In-Charge of the hospital's HDU, Christiana Elliot, explained that with the new monitors, oxygen concentrators and different equipment supplied by UNFPA to the HDU in May 2020, that there has been a decrease in number of maternal deaths in the hospital. 
At 27 years of age, Modupeh Cole who is a mother to three, is one of several new mothers to have benefited from UNFPA support to the Bo Government Hospital. On 28 September, 2020 after having a caesarean section, she delivered healthy twins in the maternal ward of the hospital, renovated by UNFPA.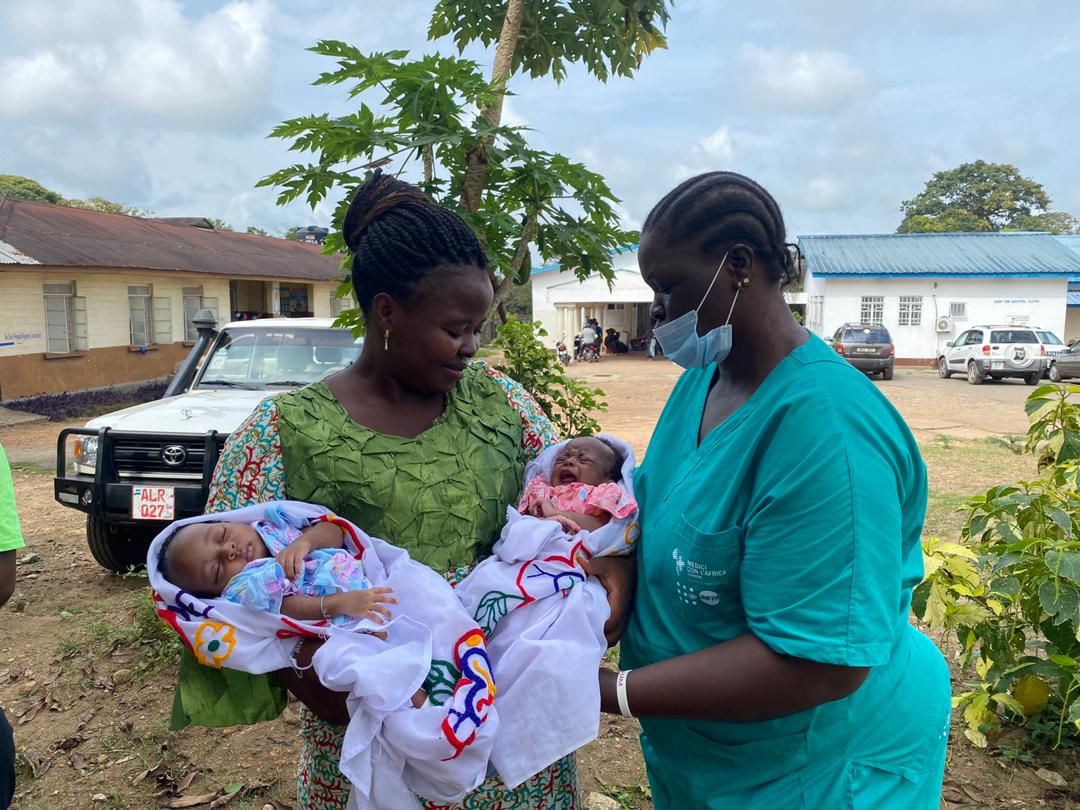 Modupeh holds her twins girls with a midwife from Bo Government Hospital.© UNFPA Sierra Leone/2020/Suliaman Stephens
Modupeh said she remains thankful for the service she received at the hospital.   "It was a difficult situation for me because when I arrived at the hospital, I had no money. However, an emergency operation was carried out and I thankfully didn't have to pay", explained Modupeh joyfully.
For more information, please contact:
Angelique Reid, UNFPA Sierra Leone, Communications Specialist
Tel: +232 78340044 - Email: areid@unfpa.org