Bo, southern Sierra Leone, 8 June 2022- UNFPA Representative to Sierra Leone, Ms. Nadia Rasheed on 7 June concluded a two-day visit to the Southern and Eastern provinces as part of a joint UN field visit.
Led by the UN Resident Coordinator Mr. Babatunde Ahonsi, the team visited the School of Midwifery in Bo, the One-Stop Centre to address gender based violence in Kailahun, and an initiative working with at risk youth in Kenema to promote peacebuilding and community resilience, along with other UN-supported projects.
At the Bo School of Midwifery, which is supported by UNFPA with funds from the UK Foreign, Commonwealth and Development Office, Ms. Rasheed said that the agency was incredibly proud of the role the school plays in training midwives who are critical to ensuring every childbirth is safe.
"We [UNFPA] recognize the central role of midwives in tackling maternal mortality. This effort is particularly important given that Sierra Leone faces one of the highest maternal mortality rates in the world" she stated.
The UN Resident Coordinator, Mr. Ahonsi in his statement, noted the significant progress the midwifery school has made in five years given its critical contribution to the reduction of preventable maternal deaths.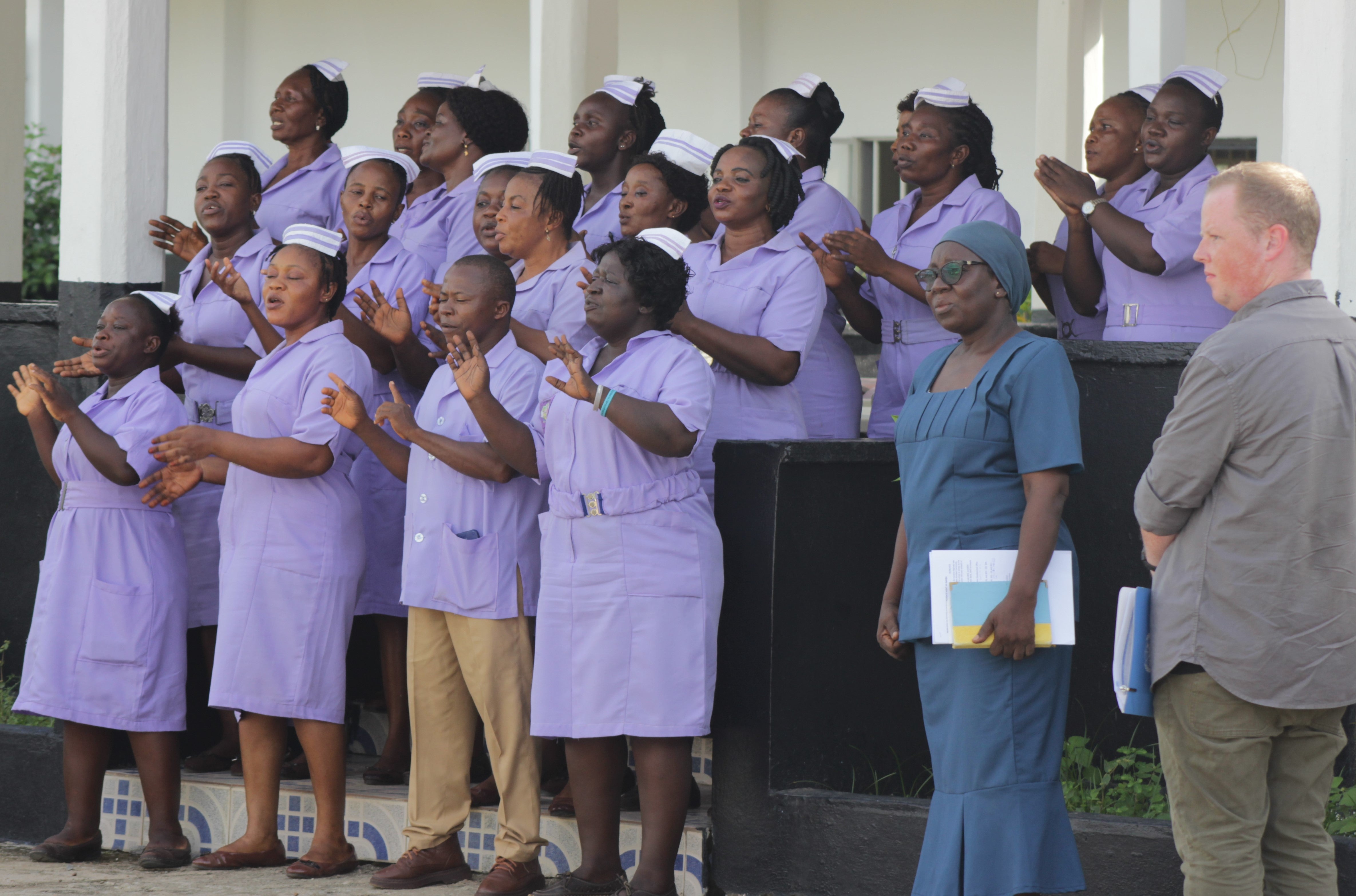 With Sierra Leone having recorded a reduction in maternal deaths – from 1,165 per 100,000 in 2013 to 717 per 100,000 live births according to the 2019 Demographic and Heath Survey report, Mr. Ahonsi said, what the world committed to in 2015 as part of SDGs is that every country must aim for 70 deaths per 100,000 by 2030. "We cannot do this without quality midwifery," he underscored.
Deputy head of school, Sr. Fatmata Dabo, while welcoming the team, thanked the UN family for supporting midwifery education, through the development of strategies and policy documents, provision of scholarships to students, faculty development and strengthening of preceptorship programme. To increase the number of trained midwives in the country, Sr. Dabo said the school will soon embark on direct enrolment of students into the midwifery programme without having to undertake initial nursing training.
Melrose Koroma, a midwife working at Gerehun Community Health Centre in Bo District said midwives remain thankful to UNFPA for the support. "We appreciate the support provided by UNFPA. Had it not been for such support, most of us would not have been midwives today. The support with tuition fees, allowances and provision of uniforms helped in lifting some burden from us."
In the eastern province, the team also visited a Youth At Risk project in Largoh, Nongowa chiefdom in the Kenema district which is jointly supported by FAO, UNFPA and UNDP and, in Kailahun, met with the GBV steering committee members during a visit to the One Stop Center, supported by UNFPA and UN Women with Irish Aid funding.
The One-Stop Centres facilitate comprehensive care for survivors of GBV which include, clinical management [medical examination, and appropriate curative and prophylactic treatment], legal aid and psychosocial support.
During the field visit, the team also toured a Rural Renewable Energy Project in Senehun, Bo district, supported by UNOPS, interacted with beneficiaries of a WFP/Ministry of Agriculture partnership that provides livelihood support to 18 hot-spot communities in Malen chiefdom, Pujehun district and visited a new border post at Bailu in Luawa Chiefdom, Kailahun district, built by IOM with funds from Japan Supplementary Funds.
"I had the chance to engage with community partners and to observe joint UN efforts in delivering on the Sustainable Development Goals. It was also encouraging to see how UNFPA's work with partners is helping to transform the lives of women and young people," Ms. Rasheed said.
For more information, contact:
John Baimba Sesay
Web and Media Analyst
Email: jsesay@unfpa.org 
Tel: +232 30953193