You are here
Country Representative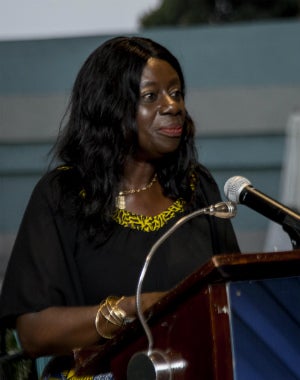 Dr. Kim Eva Dickson
Dr. Kim Eva Dickson is a physician and public health specialist, with over 16 years national and international professional experience. She assumed her role at UNFPA Sierra Leone on 11 May, 2016.
Before joining UNFPA, she worked with UNICEF in New York as the Senior Adviser for maternal and newborn health, where she led UNICEF's global portfolio on maternal and new-born health and spearheaded the process for the development and adoption of the global Every New-born Action Plan (ENAP).
Prior to UNICEF, Dr. Dickson was a Senior Adviser in the World Health Organization's (WHO) HIV Department in Geneva, Switzerland where she was responsible for coordinating the WHO's contributions to the Global Plan for the elimination of new HIV infections among children and keeping their mothers alive and also previously led WHO's efforts to provide global leadership for the scaling up male circumcision for HIV prevention.
She worked also with the UK Department for International Development (DFID) as an HIV/AIDS Advisor in Nigeria and also for several years in South Africa seconded to the now Wits Reproductive Health and HIV Institute (WRHI) of the University of Witwatersrand, Johannesburg. Dr. Dickson served as the Regional Development Director and Deputy Executive Director of the WRHI in South Africa, an Institution with a mandate for reproductive health research, training, policy development, and in the early 1990's dedicated to building the capacity of previously disadvantaged South Africans.
Dr. Kim Dickson holds a B.Sc in Human Biology and Doctor of Medicine and Surgery (MB ChB) from the School of Medical Sciences, Kwame Nkrumah University of Science and Technology, Ghana. She also holds a MSc in Maternal and Child Health from the Institute of Child Health, University of London; a Postgraduate Diploma in Family Planning from the Faculty of Reproductive Health of the Royal College of Obstetricians and Gynecologists, United Kingdom and has training in Quality Management in Health, University of Heidelberg.